Bozell doesn't look the same as when it was founded in 1921, but its underlying philosophy is still infused into its approach.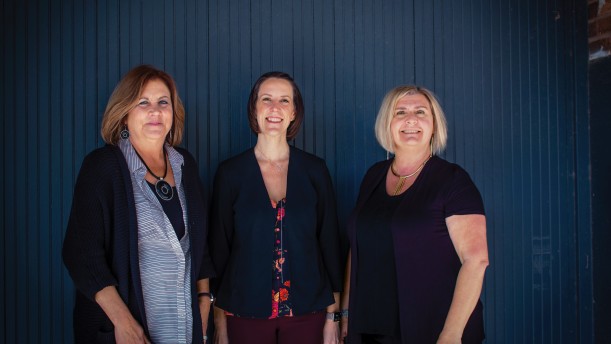 Established by an all-male team, Bozell, a well-known marketing firm in Omaha, is now completely owned by three women – Kim Mickelsen, Robin Donovan and Jackie Miller – and offers fully integrated marketing services to serve their clientele.
The firm has also recently relocated its headquarters from its Old Market roots to 2215 Harney St. across from the Federal Reserve Bank building. Mickelsen said they will miss their old office, but the company's leaders are looking forward to growing their team of talented marketers.
When the firm was founded, many marketing and advertising agencies were on the coasts, and most advertising agencies were being founded by advertising executives. But Bozell's founders – Morris Jacobs and Leo Bozell – "decided they'd rather make news than report it," Mickelsen said. "They wanted to change things."
They started with the way their office was run. In lieu of a traditional hierarchy, the founders of Bozell created their own model with a collaborative dynamic between management and staff.
Each member of Bozell's staff was carefully curated to fully serve their clients. The firm remains cognizant of their consultative nature and therefore hire individuals who are, "innately curious, insatiably curious, because those people tend to get to the bottom of things, as opposed to just making an ad," Mickelsen said. "They're the ones who tend to be more strategic thinkers in terms of offering advice that is in the best interest of achieving the objective."
A company may come to Bozell seeking flyers for an ad campaign, but they could be more likely to benefit from an online approach. Mickelsen said that the firm is candid with its clients – earning its reputation by doing the right thing, not simply what's asked of them.
"That's what may make us a bit more expensive than the other studios, but that's because instead of just being production-oriented, we are thought-oriented," Mickelsen said.
Whether it is sustainability, community development, or advocacy, Bozell knows that consumers are more knowledgeable than ever about where they shop. Businesses are pressed to "take a stand," on these issues, she said. Nike, for example, supported the "take a knee" initiative with with former NFL quarterback Colin Kaepernick.
"Some say they went too far, but look at their stock," Mickelsen said. (Yahoo Sports recently reported that Nike's stock value is up 18%, worth $26.2 billion, since its endorsement deal with Kaepernick.)
A further benefit of Bozell's flat culture is having so many deep thinkers at the ready to assist a client's campaign. Because of their attention to detail and innate curiosity, Bozell's professionals go into every meeting having done their research to make appropriate decisions and offer suggestions to their clients. The firm's philosophy is to ask what people want but establish and deliver what they truly need.
Because of their dedication to comprehensive marketing strategies, Bozell is the recipient of December's Small Business of the Month Award from the Greater Omaha Chamber of Commerce.
"We love the chamber," Mickelsen said. "We do work for them. We're big supporters of We Don't Coast and the initiatives they're doing, so it's very cool to be recognized by them."
The team at Bozell serves a vast clientele both inside and outside the Omaha metro, from the family businesses to legacy corporations. However, due to their dedication to ethical practices, Bozell is selective about the clientele with whom they choose to collaborate.
Mickelsen said the firm seeks clients who are passionate about their mission.
"We seek to empower those who want to make change," Mickelsen said. "That is our vision and our mission."
For more information on Bozell and its services, visit bozell.com.
Written for the Daily Record: https://omahadailyrecord.com/content/bozell-continues-legacy-thinking-outside-box